the beginning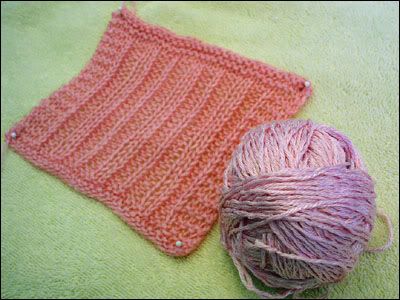 Started swatching for the silk ribbed lace corset top with the Filatura Di Crosa "Brilla" in #406 Pink and size US6 needles.

Pre-washing/blocking, it was a little small, but afterwards, it looks spot-on.. still waiting for it to dry. It was fun dipping in in the water; the feel changed entirely, and the stitches (which looked a little wibbly due to being the first time working with this yarn) straightened up and looked lovely. The swatch is still wet, so the colour looks different, but the ball is the colour of the yarn (i tried to colour correct it to be more accurate..the picture still looks a little lavendar tinted..)

Itching to get started on the top, but have to go shower and try to sort out issues with the school.. I was supposed to graduate this semester from the Computer Arts program, and the Fine Arts program, and a multimedia certificate, but for some reason (unexplainable by all) i still have not received feedback about anything.. which is throwing all plans for fall semester into question. blaaaaargh..

//

p.s. regarding last post, the yarn did arrive in time for me to take on my trip, but i was... erm... distracted most of the time and didn't get a chance to work on it! hah..