Ta-da! Hat!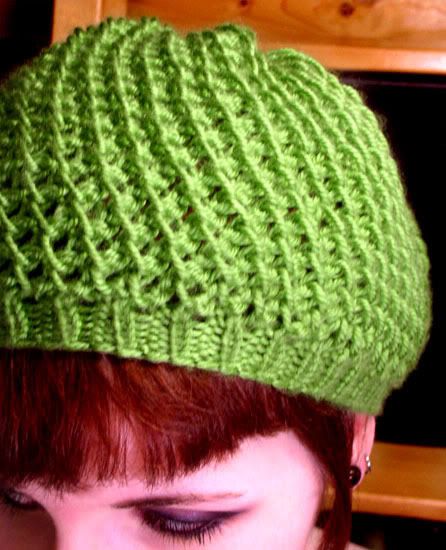 Alas, I seem to make my images too large for my blog formatting.. I must figure out how to fix that.. in the meantime, click pic for larger image.

Pattern: MaryJane Pithy Hat from Little Turtle Knits
Yarn: Red Heart Soft; Guacamole
Needles: US5, US10

Modifications: I made it a little shorter than the short version of the hat, because I currently have a very short haircut and thought it would look a bit silly with lots of hat poof and little hair. I also was a bit timid with this style of hat, as usually my hats are of the snug-fitting variety, as well as with the color. It was a good experiment; I adore the color and the hat-style is growing on me. :)


In other news, I am thinking of placing the buttons on the modified Hardcore Hoodie to create a cross-over neckline. I've been wearing the hoodie, buttonless, around the house, with the front panels wrapped across the body and came to the realization that without the excess wrapping: a) the hoodies a bit boxy/shapeless, and b) I was still a bit cold around the neck because it gapes due to low neck button placement. Plus, the cross-over neckline with the hood give it a somewhat more sophisticated, fitted, Asian-inspired look, and less "I knit a hoodie that I will now scruff around the house in.." (With the wide sleeves, it looks very kimono-like.) So, now I just have to figure exactly where to put the buttons, as it will be in a sort of curve, to compensate for hips and whatnot. Should look nice when completed.. though I don't know when I will get around to it.

Waiting til next week Tuesday so I can order this (and this, because.. yes, I've been waiting to combine my Amazon.com purchases to get my free shipping.. hah!) Tremendously excited about both, particularly the latter after seeing some great knits others have made from the book. Hooray! :)

//

eTa: ooh.. I just saw this shirt linked from one of the LJ knitting communities.. I want! Perhaps I will keep an eye on it, to see if they make a girlytee version.. since I shouldn't really be spending money anyway. Just wanted to link to it here so I wouldn't forget!